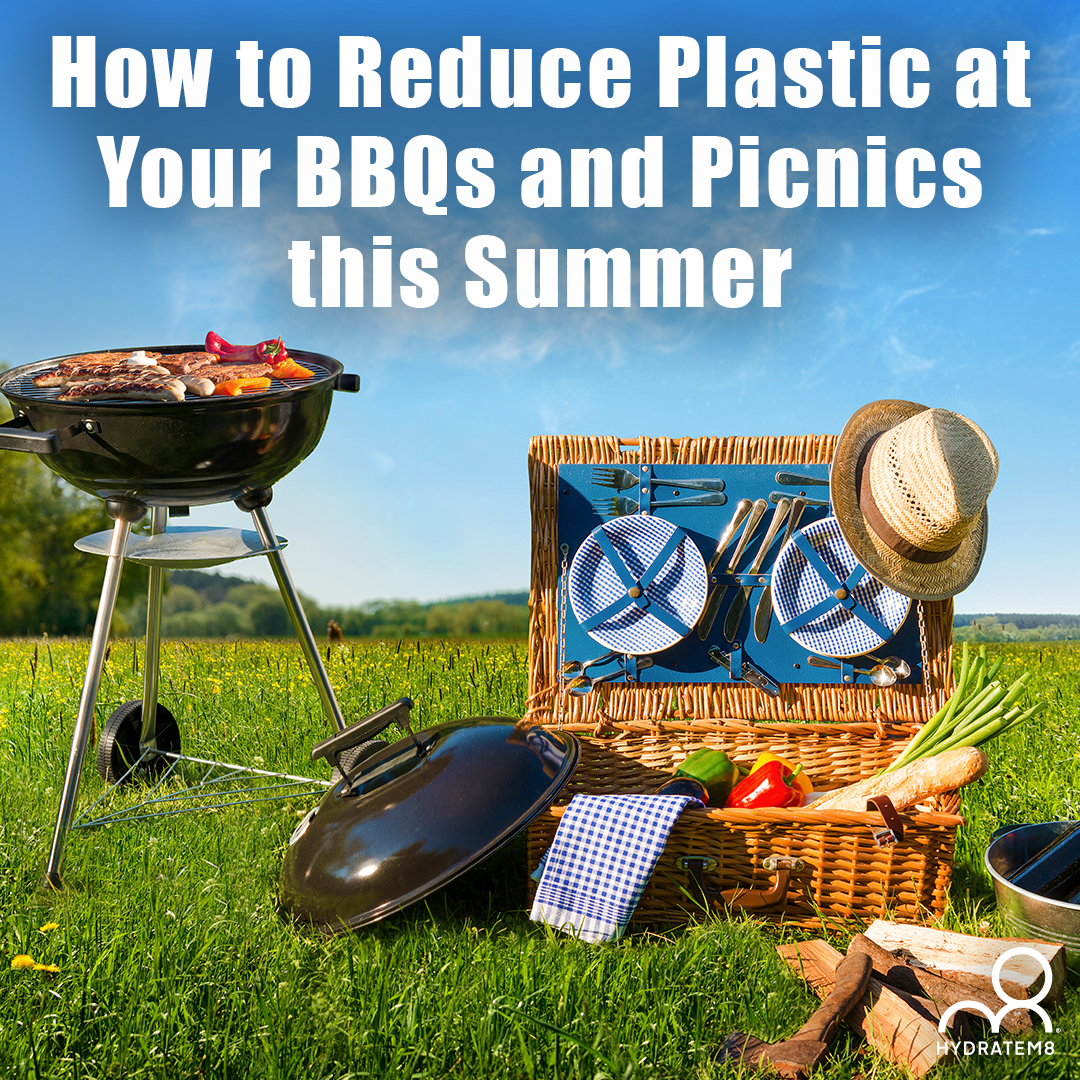 Planning a BBQ or a picnic this summer? Who isn't? However, the only problem is these great social events can encourage the use of single-use plastics and waste materials. The problem wouldn't be so bad if these products could be recycled but most can't, particularly if they are covered in food waste. So, most of it ends up in landfill.
That means this summer is the perfect excuse for us all to rethink our use of single-use plastic, and although most of us already do, there's so much more we could all be doing. The big issue with plastic is it doesn't decompose and so can remain in landfills for hundreds of years, so will still be on earth for a long time after us. And if that wasn't bad enough, much of it ends up in our water system like rivers, lakes, and oceans where it can have a detrimental effect on their natural inhabitants.
Don't panic though, there is still lots we can all do to help and it's not too difficult either. Here are a few ideas we have thought of to help reduce our plastic waste at summer events this year:
Ditch the disposable cutlery
For years disposable cutlery has been a mainstay at picnics and BBQs thanks to its convenience, we can just use it and throw it away. However, as our understanding of plastic and the environment have grown, so too has our disdain for this 'rubbish'. A report from the World Wildlife Fund states that holidaymakers to the Mediterranean account for 95% of the plastic litter found in the sea.
So, this summer, why not invest in a durable picnic set, one that is perfect for the outdoors but can be used repeatedly. Usually, they contain plates, cups, cutlery and even some utensils so you'll never have to worry about buying disposable again. They're also great for home BBQs because you don't need to worry about guests breaking your best china!
Say no to prepacked sausage rolls, let's get baking
Although a lot of prepacked picnic favourites may come in recyclable packaging, the UK is still only recycling 3% more than it was in 2010. So, when arranging a picnic this summer why not get baking and make some of your foodie favourites. Foods like sausage rolls, sandwiches, pastries, and cakes can all be made at home. Plus, it's a great way to get the kids involved and they'll look forward to eating what they've prepared. You'll also know exactly what ingredients the food contains and may even be able to hide some nutritious goodies in there, too.
Purchase some reusable shopping bags
If you're heading to the supermarket to buy supplies, invest in some reusable tote shopping bags rather than buying bags for life or carrier bags. The initial outlay will save money overall because you won't need to pay the minimum 5p charge. Plus, many of the bags fold neatly away so they can be carried in your bag. They can also be used to carry your picnic stuff to the park or beach.
Think, 'do we need straws?'
Straws are so last century, so do we need to use them? If the answer is yes, then there are some cool reusable ones on the market now which can help limit plastic waste. Alternatively, why not get yourself a Hydratem8 tracker bottle for your drinks, not only will you look super cool, you'll be helping the environment too. The big question is, why haven't you got one already?
Always remember to clear up
It's obvious, whenever we've enjoyed ourselves at BBQs or picnics, we should always clear up afterwards. The waste we leave behind could damage the local environment causing harm to wildlife like birds and hedgehogs. So, take a minute to pick up all your rubbish and recycle it where you can.
Sources
Recycling Bins. (2020). Recycling Facts. Available at: https://www.recyclingbins.co.uk/recycling-facts/
WWF. (2018). Tourists Cause Almost 40% Spike in Plastic Entering The Mediterranean Sea Each Summer. Available at: https://www.wwf.org.uk/updates/tourists-cause-almost-40-spike-plastic-entering-mediterranean-sea-each-summer