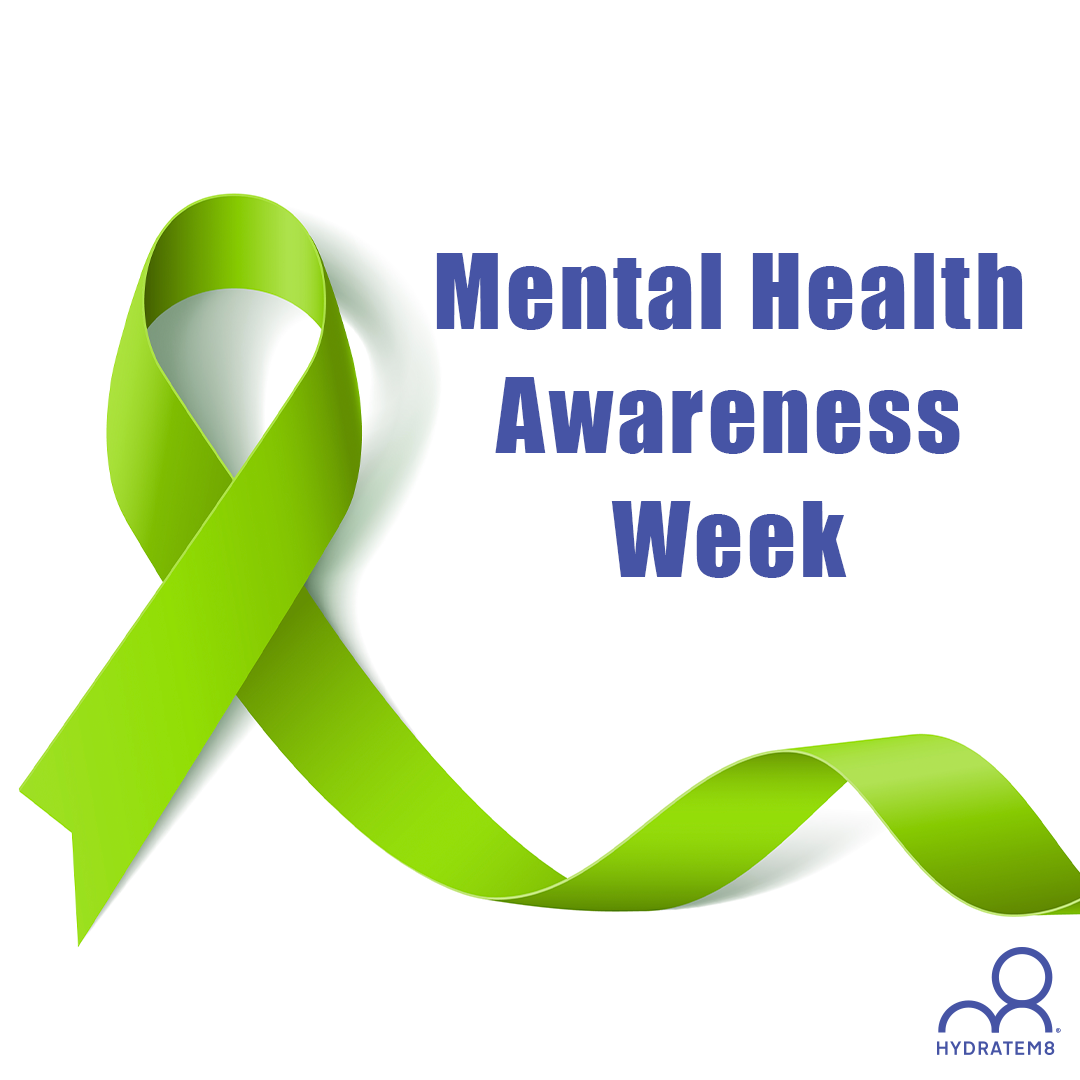 Mental Health Awareness Week is almost upon us – but can drinking water really help to ease any concerns we may have about our psychological and emotional well-being?
There are a great many occasions worth marking in your diary throughout the year, but few will be as important as 10-16 May 2021 – also known as Mental Health Awareness Week. Mental illness takes many forms and many of us will either be personally affected, or be close to someone who is suffering.
With around a quarter of the UK's population expected to experience some kind of mental health issue over the course of the year. Whether that's down to stress, anxiety, depression or anything else, the awareness raised during this week could be pivotal for many people. Naturally, at HydrateM8 HQ we are particularly interested in whether water can aid anybody struggling with their mental health. We have previously asked the question as to whether water can alleviate depression, and now it's time to dig a little deeper.
First thing's first, however – we are not doctors, so if you have any concerns about the mental health of yourself or one of your loved ones, you should seek the help of a healthcare professional. What we can offer is some friendly advice that could help relieve any symptoms caused by mental fatigue.
Simple science tells us that water releases endorphins to the brain, albeit indirectly. Keeping regularly hydrated with sufficient water levels keeps your body and its internal organs working at full capacity, which in turn ensures that your hormones are working positively and you're in peak physical condition. It's not just your body that benefits from all of this; keeping your brain lubricated will work wonders on your mind, and prevent any unwelcome sensations such as anxiety and depression from setting in and taking root.
By contrast, failing to drink enough water will obviously lead to the risk of dehydration, which will have a negative impact upon your mental state. Just some of the symptoms that surround dehydration include irritability, sluggishness and an inability to think straight, and generally feeling down in the dumps. There is always the risk that being a little blue will escalate into a serious bout of depression, so why take the chance?
Another symptom of dehydration that is rarely discussed is anxiety – something that currently impacts up to 3million Britons. Have you ever felt like your heart is akin to a racing car that loops around your chest constantly, and refuses to slow down? That's a simple explanation of anxiety – and it can be indirectly caused, or magnified, by failing to drink enough water.
The reason for this is very simple. If we fail to drink sufficient clear fluids, our organs struggle to keep up with the demands of our body. This results in instinctive messages of panic being sent to the brain; the body is saying that something is wrong, and it doesn't quite know what. Before we know it we're in the middle of a full-on anxiety attack, which can then lead to stress – known as Britain's silent killer. Why take the risk when all of this can be avoided by simply maintaining a steady level of hydration throughout the course of the day? Proper hydration can help you avert these debilitating symptoms and a great way to keep your water intake up is with one of our water bottles.
Water is not a prescription medication, but that's arguably the greatest thing about it – sipping on clear fluids may actually prevent the need to consult a doctor about low moods or feelings of anxiety. With our brains being constructed of almost two-thirds fluid, keeping ourselves hydrated is one of the keys to feelings of happiness and contentment. The statistics that surround Mental Health Awareness Week are worryingly high, but we can all do our part to avoid adding to them. Just keep sipping away, throughout the day, and reap the benefits!