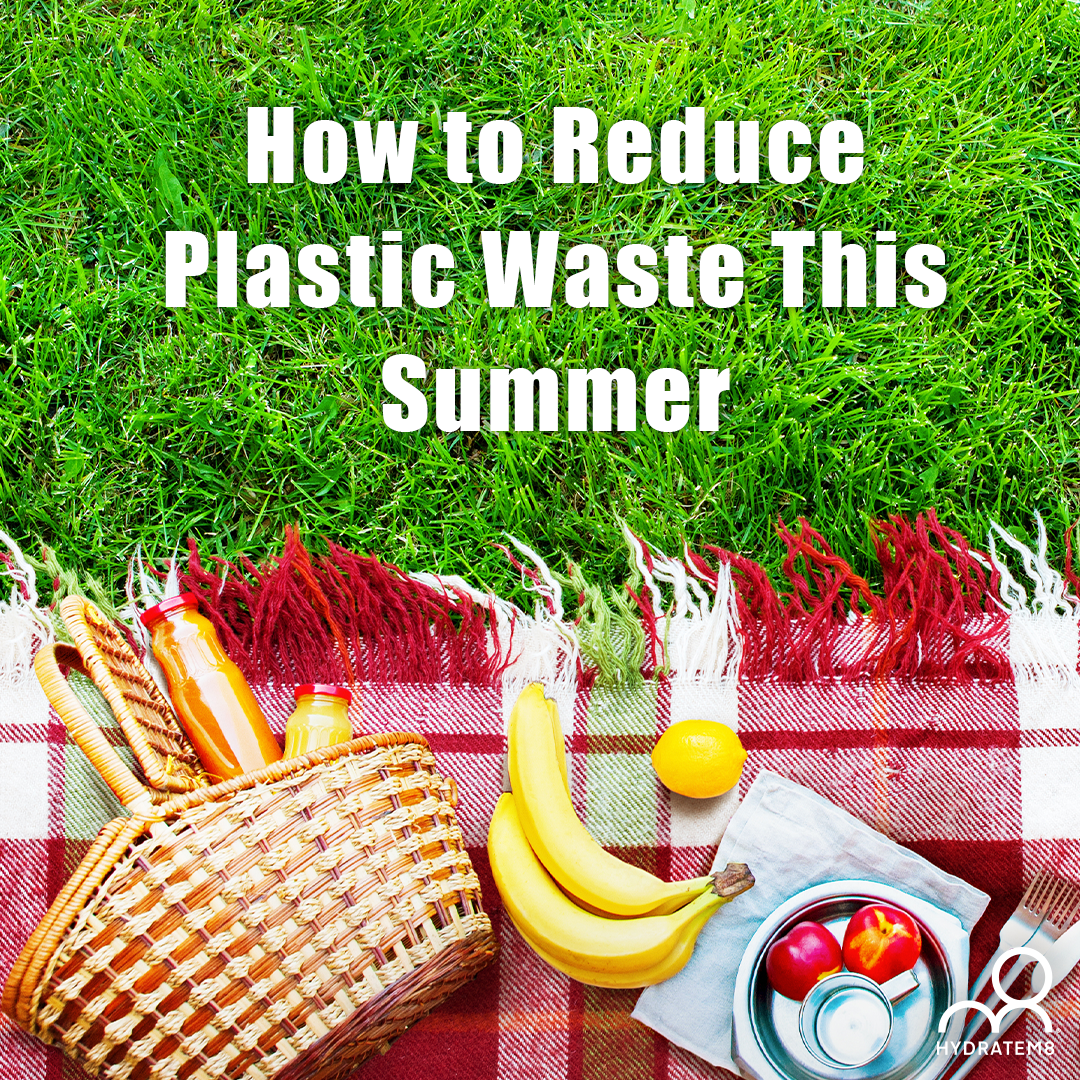 Plastic Waste 'Goes Up By 40% During the Summer' – Here's How to Reduce Your Consumption
Summer is almost here and that can only mean it's the season for picnics, BBQ's and generally being outside. Although the sun is a welcome sight and is essential for our vitamin D production, the season also means our use of plastic increases. Even though single-use plastic is convenient, it's effect on the environment can be staggering. That's why here at Hydratem8 we've put together some useful tips to help reduce your plastic use this summer.
1. Ditch the air-con for a fan instead
Everyone loves to stay cool during the summer, especially if they're indoors. Not being able to sleep at night because it's too hot can be a real downside to summer. However, before you switch the air conditioning on, why not use a fan instead? Unbelievably, fans use 90% less energy than air conditioning units and still help to keep your house cool.
If you're not convinced or are looking for a cheaper alternative to air conditioning, try placing a bowl of ice in front of the fan, so the breeze blows onto the ice and cools the air even more.
2. Invest in a picnic set rather than disposable crockery and cutlery
The sun is out, it's warm and so that can only mean its perfect weather for BBQs and picnics. It also means that we don't want to spend our time washing up so many of us opt for disposable or throw away cutlery and crockery because it's more convenient.
There are, however, some pretty picnic sets available and supermarkets often sell seasonal ones, too. They're great for eating alfresco and they're also perfect for kids, too, no need to worry about them smashing if they're dropped or knocked over.
Alternatively, you could ask friends and family to bring their own plates and cutlery to your picnic or BBQ to reduce your plastic waste. (They might even take them home to wash up as well, so it's win-win all round).
3. Take advantage of the good weather and walk or cycle to work (if you can)
You may be thinking, 'what does that have to do with my plastic use?' Well, nothing, but the carbon emissions given off by car use are also damaging to the environment. So, with the days longer, it's the perfect time to switch the car or bus for walking or cycling to work, if you can of course.
Plus, walking and cycling are not only good for the environment but your overall health and wellbeing, too.
4. Say goodbye to plastic straws
It seems that once the sun appears, so do plastic straws. Although many restaurants, cafes and fast food outlets have tried to reduce their plastic straw use or found alternatives, it might not always seem so easy at home.
Straws make drinks like smoothies, cocktails, and milkshakes much easier to drink and in some cases add to their appearance but they take hundreds of years to breakdown and decompose.
So, what can you do? If you're served a straw when you're out you can refuse a straw or ask if they have alternatives like paper straws. You can also buy metal straws which you can reuse at home or folding ones so you can carry them around with you.
5. Carry reusable shopping bags with you
Since the 5p carrier bag charge was introduced in October 2015, some figures suggest the use of single-use carrier bags has fallen by 85%, but that doesn't mean we all remember to take bags with us when we shop. And, that can be a real pain if we're caught out and shop in a store which has stopped offering them altogether.
However, you can buy fold-up reusable bags, some even have cute designs, so there will never be an excuse to use a single-use carrier bag again.
6. Invest in a Hydratem8 tracker bottle
In 2017, over three-quarters of the UK population drank bottled water. Although that's great for our hydration status, it's horrendous for the environment. The plastic crisis is a global problem and is causing harm to wildlife, oceans, and beaches but there is a way you can help, invest in a Hydratem8 tracker bottle.
Not only do our bottles help you to monitor your water intake and encourage you to stay hydrated, but they're also good for the environment, too. So, you can say goodbye to water bottles for good.
7. Sign up to take part in a beach or park clean
If you live near a beach or a park why not volunteer to help clean it up. Many places run community clean ups, it's a great way to care for your local environment, meet new people and keep active.
Sources
Phox. (2018). 10 Easy Steps to Cutting Your Plastic Waste this Summer. Available at: https://www.phoxwater.com/blogs/water/best-10-ways-to-reduce-your-single-use-plastic-consumption
Smithers, R. (2016). England's Plastic Bag Usage Drops 85% Since 5p Charge Introduced. Available at: https://www.theguardian.com/environment/2016/jul/30/england-plastic-bag-usage-drops-85-per-cent-since-5p-charged-introduced
Yoga Weeks. (2019). 10 Simple Tips to Have a More Eco-Friendly Summer. Available at: https://www.yogaweeks.com/eco-friendly-summer/