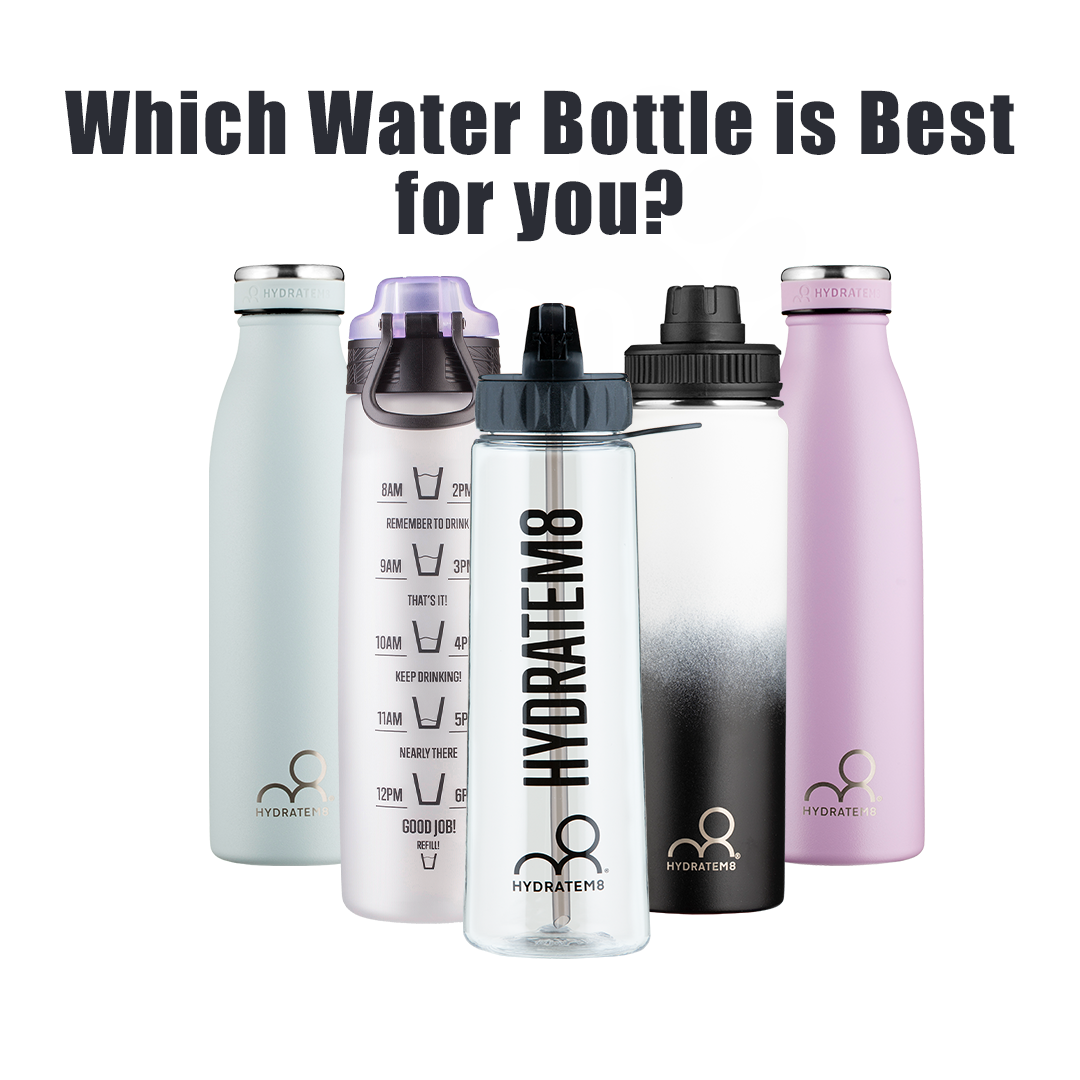 The HydrateM8 range of reusable water bottles has expanded and evolved over the years, but the basic premise remains the same – helping to keep the nation hydrated is our number one concern, while also reducing the number of disposable plastic water bottles that are sent to landfill.
With that in mind, our mission will be more successful if our customers choose the right bottle to fit in with their lifestyle. Here we compare our products so you can pick the best water bottle for you.
Hydration Tracker Water Bottles
Original Range
The original HydrateM8 water bottle, this is the one that started a hydration phenomenon! It has a water bottle with straw design which is ideal for a person who is always on the go. With a convenient tracker on one side, so you can see exactly how much you have had to drink, and a motivational quote on the other side, this has been designed to be both stylish and functional. If you need a little help maintaining your hydration goals in your day-to-day life, then this bottle is ideal.
Active Range
Like the Original water bottle with times, the Active tracker water bottle features timed markings up the side to show you how much you should have consumed throughout the day. However, this has been given a modification to suit those who need to drink while they are exercising, with an easy-open button spout and wider opening so you can quickly hydrate while pushing your body to the limit. The large HydrateM8 logo shows the world that you take your hydration seriously.
Insulated Water Bottles
650ml Roamer Bottle Range
The roamer water bottle is the latest addition to the HydrateM8 range. This stainless-steel water bottle uses the same insulating technology as the 500ml version, but it has a very special lid. The dual opening ensures you can take quick sips on the go or you can open it wider to pour your drink into a cup. The powder-coated finish makes for an incredibly stylish option that is perfect for anyone who likes to look good on their adventures.
Whichever HydrateM8 reusable water bottle you choose, you can be confident in the knowledge that you are purchasing a high-quality product that will last you for many years. You are also saving the environment from unwanted extra waste in the form of disposable bottles and saving money by not buying those convenience drinks! There are no downsides to owning a HydrateM8 bottle!