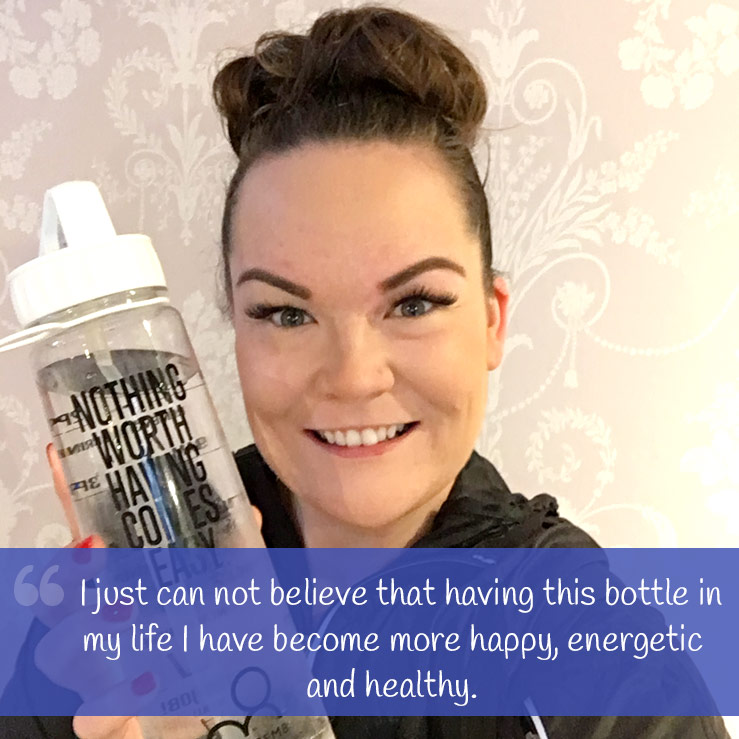 I now truly believe that staying hydrated with plenty of water is the key to a long lasting healthy life.

I use to feel sluggish, hungry and tired most of the time, as a mental health nurse who is very busy and constantly on my feet does NOT bode well!!

I've had my @hydratem8 bottle for a while and I literally take it every where work,gym,shopping,walking and when having a soak in the bath. Wherever I go it is there like a beacon to drink which especially helps me when I am on my busy ward at work I use to go hours without a drink and then have a coffee…talk about ADDING fuel to the fire!! Now in work I keep my bottle handy and whenever I'm offered that brew I think no I will have my water..work colleagues, friends and family are super jealous (I know what I will be getting them for Xmas….my shopping list done in one hit)

Through drinking plenty more water I have lost weight along with eating healthy THE MORE YOU DRINK THE MORE YOU SHRINK 🙂 and I feel AMAZING being 2stone down. My new benefits do not stop there!! My face is getting clear but the skin on my whole body doesn't look dull anymore it looks fresh, smooth and healthy.

I just can not believe that having this bottle in my life I have become more happy, energetic and healthy.
Victoria Cook