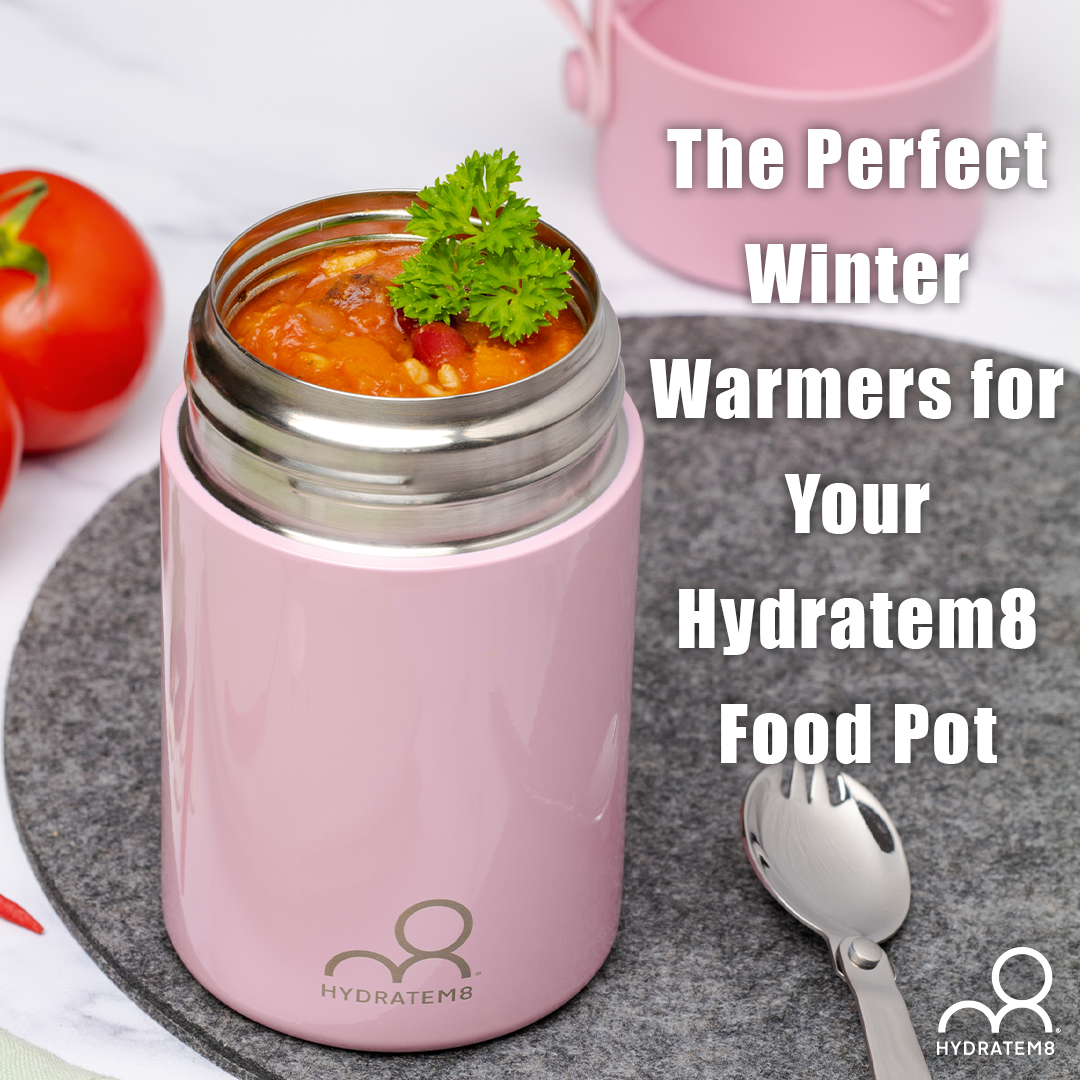 Your Hydratem8 food pot is the perfect companion for warm, winter lunches, giving you a nutritious alternative to boring, soggy sandwiches. We list some of the dishes you could cram into your food pot to give you a hearty midday meal, but if you need more inspiration check out our recipes.
Soup
Soups are a great way to keep yourself hydrated as they are mostly liquid, but they can also be full of nutrients and fibre which helps to leave you feeling fuller for longer. Soups really are a winter must have and homemade soup is simple to make and you'll know exactly what's in it, so no need to worry about allergies, salt, or saturated fat content.
Another great advantage of soup is it can count towards one of your five-a-day and that's especially useful if you or other members of your family find eating fruit, veg and salad a chore.
Casseroles
Casseroles are making a healthy comeback. They're quick and simple to prepare, plus you can load them with wholegrains, beans, plenty of chunky veg and low fat, high protein meat such as chicken breast for a flavoursome treat.
The great thing about casseroles and stews is you can prepare a large batch and freeze individual portions to eat later. Simply, cook up a casserole or stew in a slow cooker or casserole dish, use what you need, freeze the rest and then when you want to have it for lunch simply reheat and pour into your Hydratem8 food pot.
Curry
Another great addition for your food pot is the good old curry. Whether you like yours mild or eye-wateringly hot, curries make a great lunchtime alternative. Making your own curry from scratch gives you the opportunity to experiment with flavours, heat, and ingredients.
Foods like butternut squash, sweet potatoes, cauliflower, and spinach are perfect for the main ingredient in your curry and can be used as a replacement for meat if you're looking for a healthier alternative to the more traditional recipes. You can even swap traditional white, basmati or pilau rice for cauliflower rice which is packed with fibre and nutrients and is a clever way of getting one of your five-a-day.
Pasta Dishes
Swapping white pasta for wholegrain varieties will provide your body with fibre, selenium, and manganese. It's a rich source of carbohydrates providing your body with energy. Cooking pasta and allowing it to cool changes it's structure and turns it into resistant starch, meaning that it is more resistant to the enzymes in the stomach responsible for breaking carbs down into a type of sugar called glucose. I t also acts more like fibre keeping the sugar spike after eating lower and helping to nourish the good bacteria living in your gut.
So, preparing pasta salads for your lunch such as tuna pasta is the perfect way to utilise the resistant starch function of cooked and cooled pasta. However, if you're looking for something warmer, your Hydratem8 food pot can accommodate both hot and cold dishes, so there's nothing wrong with packing yourself a homemade, tomatoey spag bol either.
Summary
No matter what the time of year, your Hydratem8 food pot is perfect for on-the-go lunches. Its convenient size provides you with a large enough portion to keep you feeling satisfied and is small enough to fit in a work or school bag or even a picnic basket. You no longer need to dread lunchtimes, so kiss goodbye to boring sandwiches and look forward to lunchtime again.