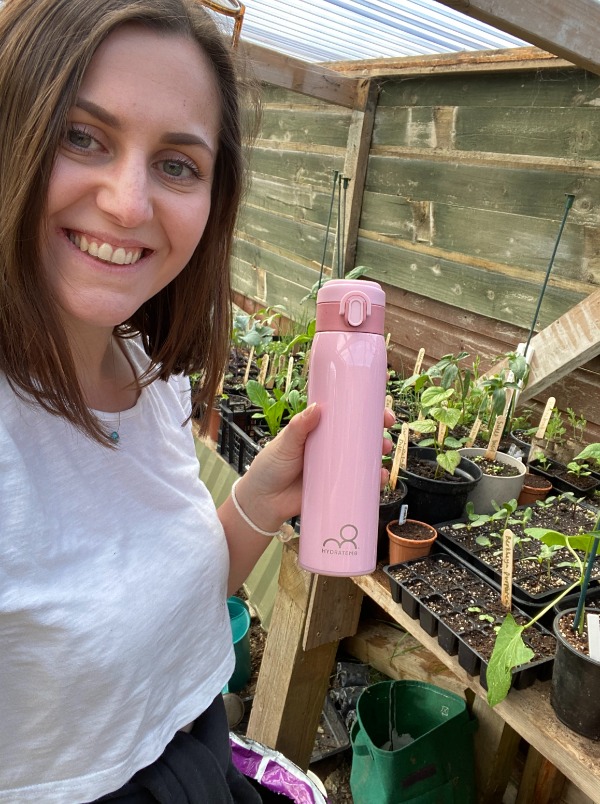 My HydrateM8 coffee cup is honestly a game changer for long days at the allotment, because like plants, humans need to stay hydrated. My favourite thing about it is that it's great for both keeping water cool and keeping tea hot. I tend to head over to the plot for hours at a time come rain or shine, so being multipurpose, it's a fab product all year around. I'm usually there on my own too, so it's the perfect size just for one.
I walk the 30 minute round trip almost daily, sometimes twice, and have very limited time between a busy working day and allotment jobs so a tea on the walk is one of the few cups I get to enjoy whilst still hot. Plus, it fits perfectly in my backpack with no risk of leaking!
In the heat, I like to pop in some nice cold water – gardening in the heat can make you very dehydrated, and there's nothing worse than having to glug warm water after a lot of hard work. Later in the day when I'm ready for a tea break, I like to pour it in here instead of a mug where it gets cold far too quickly. Then I can enjoy my tea at leisure rather than having to down it in one!
A lot of the autumn and winter is spent hiding in the greenhouse between rain showers so a lot of tea is consumed to keep warm. I really hate drinking cold or Luke warm tea, but can't tell you how many reusable coffee cups I've been through and just not gotten on with because they just don't retain enough heat. This one really is my favourite yet!
[vc_single_image image="411509″ img_size="medium" alignment="center" parallax_scroll="no"][vc_btn title="Baby Pink Insulated Coffee Cup 440ml" color="success" align="center" link="url:https%3A%2F%2Fhydratem8.com%2Fproduct%2Finsulated-coffee-cup-440ml%2F%3Fattribute_pa_colour%3Dbaby-pink|||"]