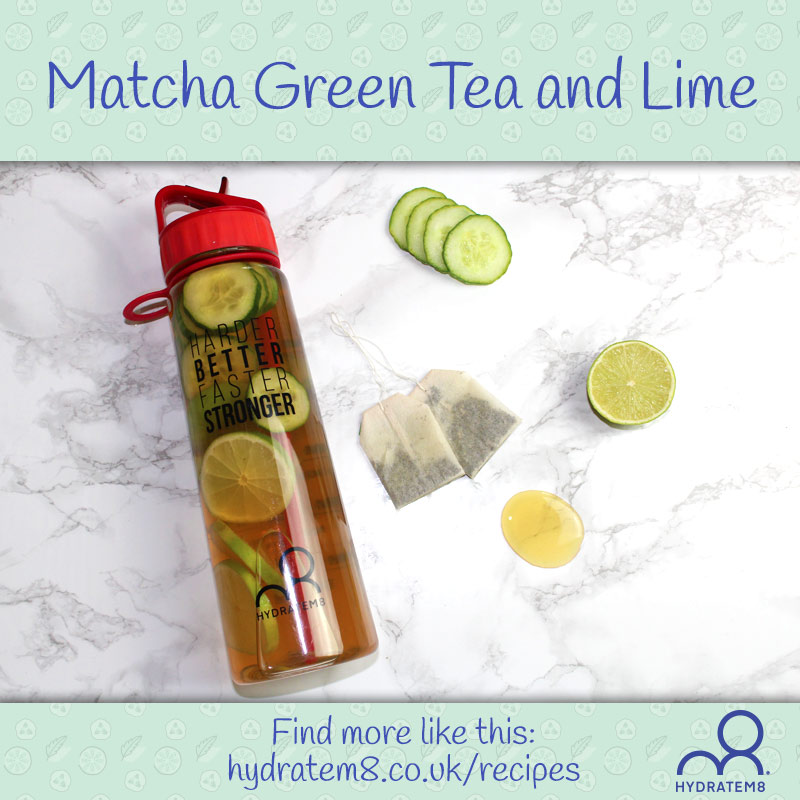 This kick starts your metabolism, so is great to drink all the way through the day – take it to the office with you!  Green tea has amazing nutrient rich properties, which aid weight loss, mental agility and scientists also say that it can ward off certain cancers due to its polyphenol and flavonoid contents. An all-round healthy drink to add to your daily hydration.
Makes: Up to 2 bottles – for 1 bottle, simply halve the recipe. Making 2 bottles at a time prevents fruit wastage.
Ingredients:
3 limes (or you can use lemon)
4 bags of green tea, steeped in water for an hour or overnight
½ small cucumber, thinly sliced
2tsp raw honey or agave syrup or top grade maple syrup
Method:
Steep the t-bags in 350ml of water for up to 1½ hours at room temperature.
Cut the ends off the limes and then cut into pieces that will fit into the Hydrate8M bottle. Remove the rind, as this can taste nasty if left in the bottle for too long. Add the cucumber slices.
Remove the t-bags from the steeping liquid and put the liquid into the bottle, then add enough water to almost fill the bottle to approximately three-quarters. Add the raw honey or syrup and mix around.
Leave for 1 hour to infuse, then shake before drinking or decanting into a glass.