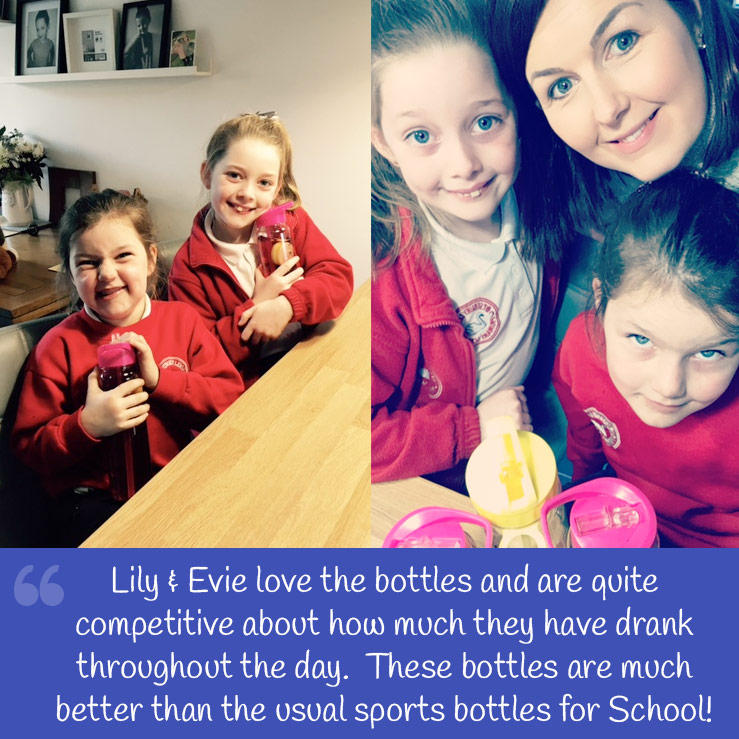 Just wanted to pop a quick message across to Thank You for the Hydratem8 bottles (mini version). I ordered two for my daughters (8 & 6 years old) for Christmas (well for their stockings in fact of, eh hem, Santa! Lily & Evie love the bottles and are quite competitive about how much they have drank throughout the day. All of their old sports bottles for school have been binned as these exceed any we have used in the past. Now they want different colours too….

I also use the larger version and now regular consume 3 or 4 full flasks everyday! Not only that, but as a Slimming World target member I'm always getting asked at group where it's from etc, will continue to spread the word!
What was your hydration like before hydratem8?
Ok but has definitely been improved.
Did you have, or do you currently have, a particular health or fitness goal?
I am a Slimming World member and have lost over 3 stone, staying well hydrated ensures I'm not mistaking thirst for hunger. I also enjoy running but have had to take a break for a while for health reasons.
How has your hydratem8 helped you?
It prompts me to drink regularly throughout the day, I initially struggled with one bottle, now I regularly drink 3/4 and find I suffer far less frequently with headaches as a result.
Is there anything else you'd like to add that would help other people understand the benefits of using a hydratem8?
It's a fantastic, leak free bottle that the whole family will love! My girls use their for school too and drink more as a result of the guide.
Hannah Beeson (and girls!)