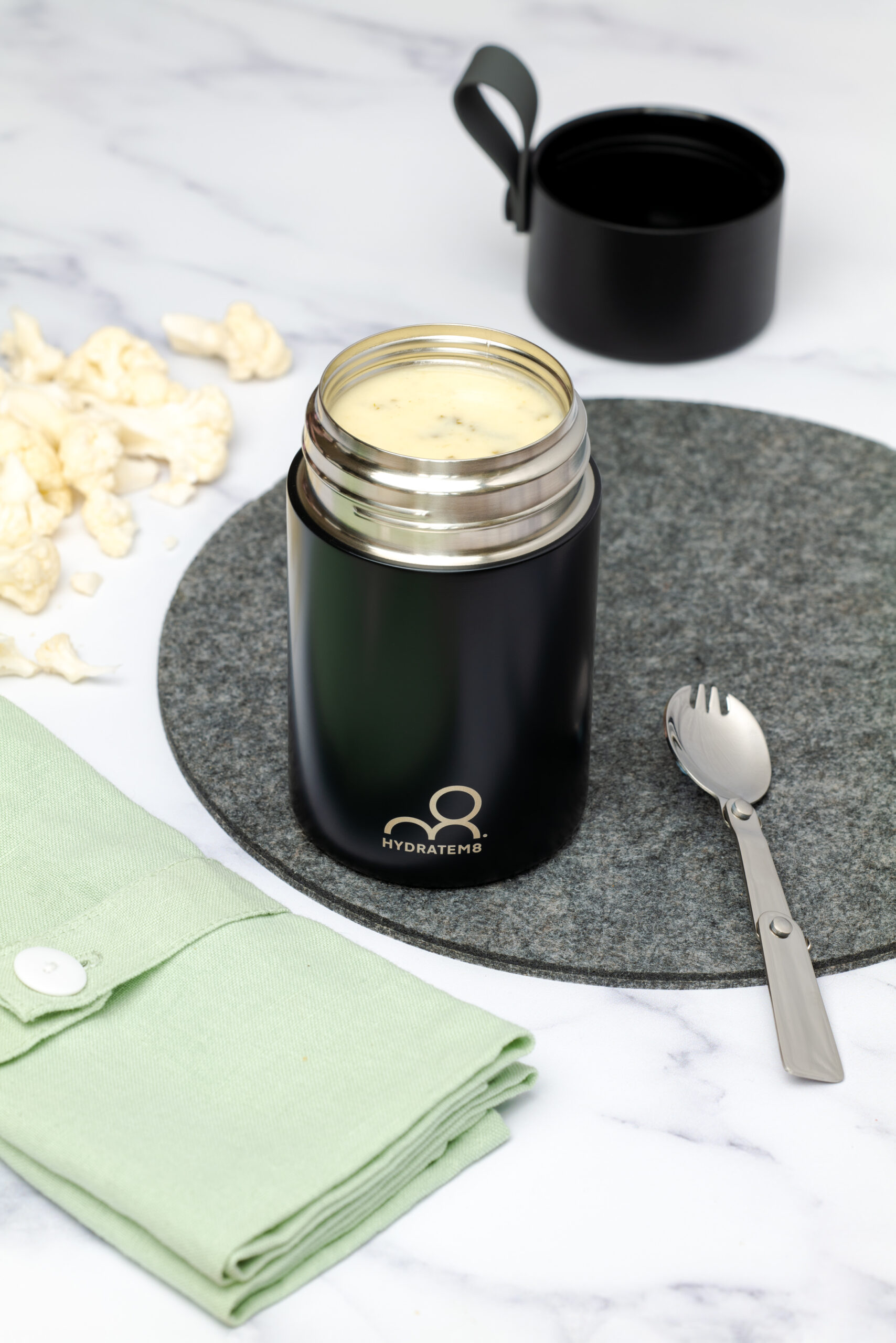 The ultimate in comfort, no Sunday lunch is complete without cauliflower cheese, but it also makes the perfect meal on its own. Well, now you can enjoy this favourite in soup form, too, perfect for your food pot. The kale also brings extra vital nutrients. The perfect warmer for those autumn adventures.
Ingredients
Knob of butter for frying
1 large cauliflower
1 white onion
1 potato
400 ml milk
100g mature cheddar cut into small cubes or grated
700 ml vegetable stock
2 cups of kale removing the tough stem and chopped (optional)
Salt and pepper to season
Preparation time: 10  minutes
Cooking time: 40 minutes
Method
1.     Begin by peeling and chopping the potato into chunks. Prepare the cauliflower by removing the leaves and cutting into florets (you could cheat and buy ready prepared cauliflower – you'll need about 900g) and peel and finely chop the onion.
2.     In a large saucepan, heat the butter and add the onion. Stir frequently until the onion is soft.
3.     Add the potato, cauliflower, milk, stock and season with salt and pepper to your liking. Bring the pot to the boil then reduce the heat.
4.     Leave to simmer until the cauliflower is soft and the potato is just about collapsing – usually around 30 minutes.
5.     Whizz the soup with a stick blender or transfer to a food processor and blend until the soup is thick and creamy.
6.     Now add the kale leaves and allow the soup to simmer for a further 10 minutes until the kale is soft and tender. Alternatively, you can use spinach and just allow it to wilt in the soup.
7.     When you're ready to serve, add the cheese and stir through. The cheese should melt form the heat of the soup. Delicious.
Tips
·       If you're using a salty vegetable stock, take it easy with the seasoning. You may find you need less than you think.
·       If you like a bit of added flavour or a bit of heat, try adding some English mustard when adding the stock.
·       Experiment with different herbs and spices if you're feeling adventurous for added flavour.