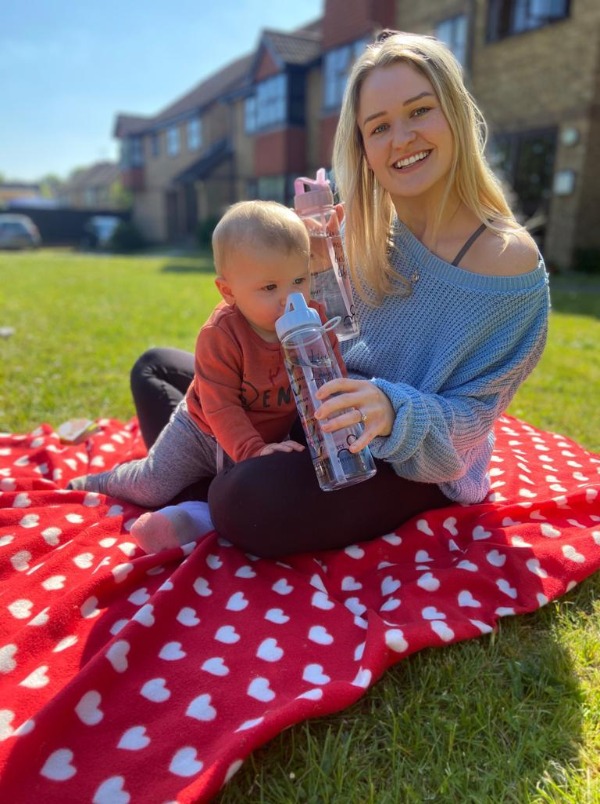 My name is Brooke and the pictures show my son Jude, who is 10 months old.
Everyone in the family has a HydrateM8 and my son had constantly been wanting my bottle. Every time I went to take a sip of water, he tried to take my bottle and do the same. My mum and Jude's Nanny decided that Jude should have his own bottle and purchased the one in the photos for him! Jude is so pleased and now we can both enjoy our HydrateM8's together.
I first decided to buy a HydrateM8 to keep track of the amount of water I was consuming a day. I was always quite good with eating and drinking before purchasing one but I must admit that I am even better now, as I can see exactly how much water I am having and when I need to have that bit more – I am currently trying to get back to my weight before I had my son Jude. My HydrateM8 product has really helped me to keep an eye on the amount of water I am consuming and making sure I get the required amount each day!
The bottles are really good quality and really do help you to stay on track with how much you should drink a day.
[vc_single_image image="419049″ img_size="large" alignment="center" parallax_scroll="no"]
[vc_single_image image="419054″ img_size="large" alignment="center" parallax_scroll="no"]
[vc_single_image image="419038″ img_size="large" alignment="center" parallax_scroll="no"]
[vc_single_image image="417694″ img_size="medium" alignment="center" parallax_scroll="no"][vc_btn title="Limited Edition Hydration Tracker Water Bottle 900ml" color="success" align="center" link="url:https%3A%2F%2Fhydratem8.com%2Fproduct%2Fhydration-tracker-water-bottle-limited-editions%2F|||"]