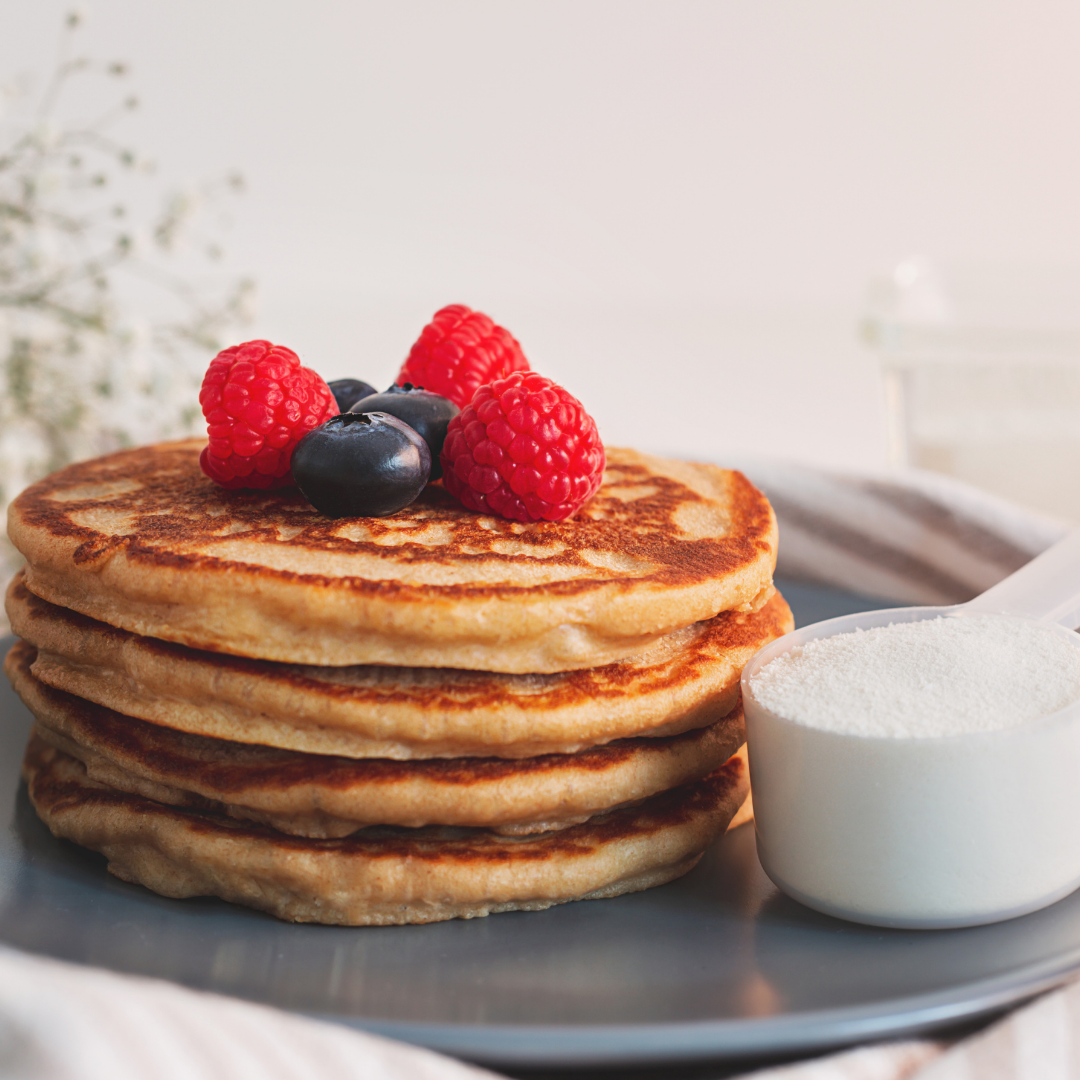 Shrove Tuesday, better known as Pancake Day, is here again, and if you're bored of the usual recipe, here are a few of our favourites for you to try this year.
Pancake Day has, in the past, excluded people with certain food intolerances or beliefs, so we've put together 3 recipes that shouldn't leave anyone out.
Vegan Pancakes
If you're fresh from Veganuary, and thought, 'why not carry it on?', or fancy an alternative, this Vegan pancake recipe is sure to hit the spot.
Ingredients
150g self-raising flour
½ tsp baking powder
200ml almond milk (or any plant based milk of your choice)
½ tbsp sugar
A few drops of vanilla extract
Pinch of salt
½ tbsp vegetable oil for frying
Makes 8 pancakes
Method
In a mixing bowl, whisk together the flour, baking powder, sugar, and vanilla extract with a pinch of salt. Slowly add the plant milk and whisk until you get a smooth batter.
Heat the oil in a non-stick frying pan over a medium heat. Add 2 tablespoons of batter to the pan to make small pancakes. You should be able to fry 3-4 small pancakes at a time, depending on the size of your frying pan.
Fry for 3-4 minutes or until the edge of the pancakes are set and there are bubbles on the surface. Flip the pancakes over and cook for a further 3 minutes or until the pancakes are cooked through and a delicious golden-brown colour on both sides.
Place the pancakes in an ovenproof dish on a low heat in the oven to keep them warm while you cook the next batch.
Serve the pancakes in a stack with a variety of your favourite vegan friendly toppings.
Gluten-free Pancakes
These gluten-free pancakes are perfect for people who can't eat gluten, but they also make a tasty alternative for everyone who loves pancakes. They're super simple to make, using specialist flour, simply top with your favourite sweet treats like a squeeze of orange juice.
Ingredients
250g gluten-free plain flour
2 eggs
500ml milk
Butter for frying
Makes 12 small pancakes
Method
Add the flour to a large mixing bowl, making a well in the middle of the flour. Crack the eggs into the well and pour in approximately a quarter of the milk. Use an electric whisk or a balloon whisk if making them by hand to combine the mixture.
Once you have a thick paste, slowly add the milk in quarters at a time and whisk until the batter is smooth.
Leave the batter to rest for 20 minutes.
After resting, stir the batter thoroughly.
Heat a knob of butter in a large frying pan over a medium heat. Once the butter has begun to foam, add 2 tablespoons of batter to the pan and swirl so you coat the pan with a thin layer. Alternatively, you can make 3-4 small pancakes in the pan by adding 2 tablespoons of batter and keeping the pancakes small.
Cook until the pancakes are golden brown on the base, usually a few minutes. Flip them over and cook for a further few minutes until golden brown or cooked through.
Keep repeating until you have used all the batter.
Serve in stacks with your favourite topping or fill them with your favourite sweet filling.
Protein Pancakes
Protein pancakes are a healthy breakfast idea, perfect for the start to your Shrove Tuesday, so flip the tradition on its head and make pancakes your first meal of the day.
Ingredients
1 banana
75g of oats
1 tsp baking powder
2 tbsp of milk of your choice
2 tbsp of your preferred protein powder
3 eggs
Pinch of cinnamon
Flavourless oil for frying (not olive)
Method
In a blender or your Hydratem8 Protein Mixer, blend together all the ingredients except the oil together until you get a smooth batter where all the oats have broken down. If they haven't, keep whizzing until they have.
In a large frying pan, heat a drizzle of oil. Ladle the batter into the pan, in 2 -3 rounds, leaving space between each to allow for a little spread.
Fry the pancakes for 2 minutes, until the edges are set and there are bubbles appearing on the surface. Flip the pancakes over and continue to fry for a further couple of minutes, until both sides are golden brown.
Transfer these to an oven proof dish and place in the oven on a low heat while you prepare the next round of pancakes.
Once ready, top with your favourite nut butter, a drizzle of golden or maple syrup, and/or fresh fruit and berries.