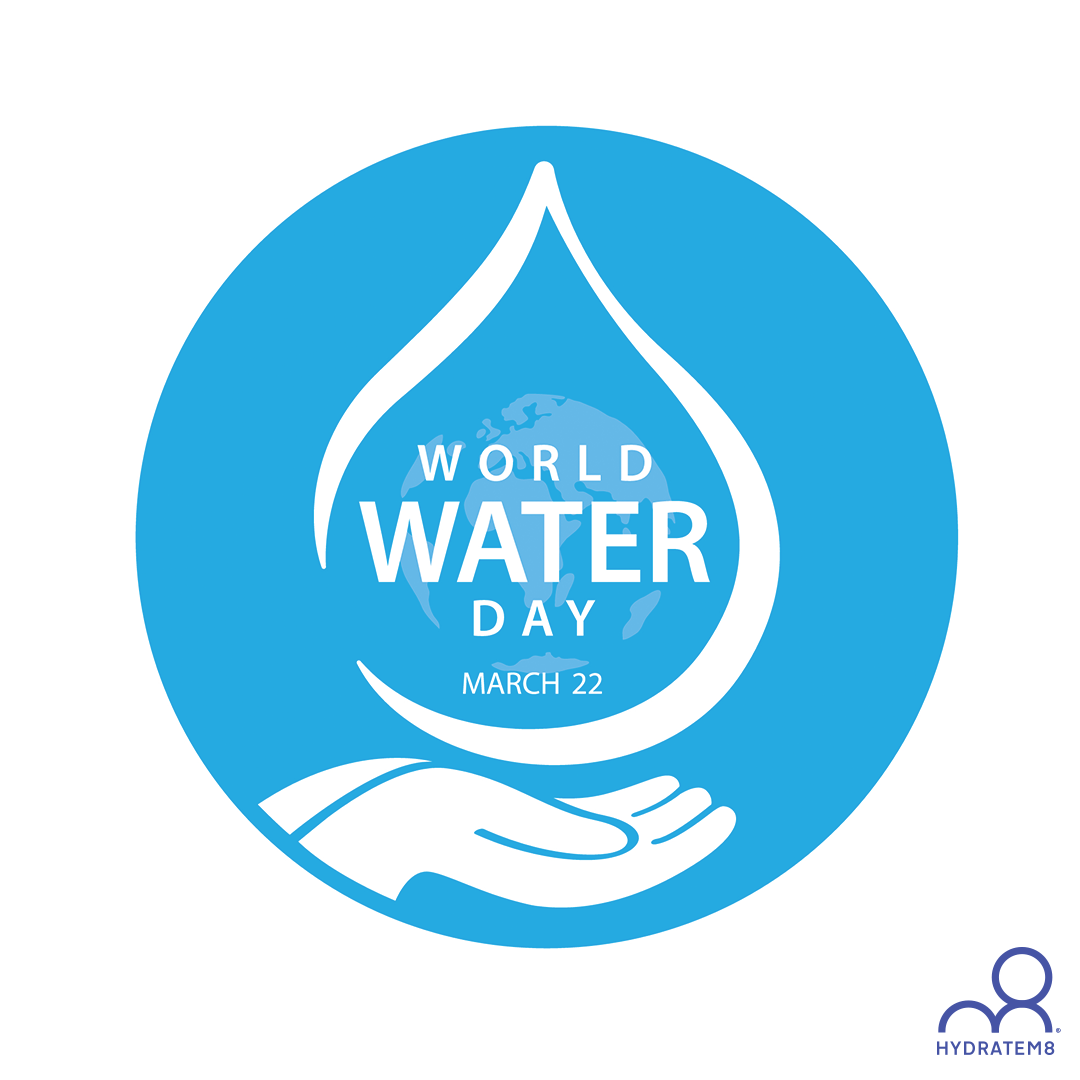 World Water Day is all about what water means to people. Here at Hydratem8 water is central to everything we do. To us water is about staying hydrated and preventing illness. But that's not all, as part of our charity work, we donate 10p from every product sold to Toilet Twinning, a charity campaign that aims to provide proper sanitation, hygiene education and clean water to the world's poorest communities.
Water is fundamental to life. Our key objectives at Hydratem8 are to maintain a healthy planet and a healthy you. By switching to our products, you will be reducing your output of single-use plastic, lowering the amount that ends up in landfill and perhaps more importantly in the oceans, destroying aquatic ecosystems and wildlife. We're also working hard to promote the importance for good hydration and nutrition as we know these are fundamental to a healthy lifestyle.
That's why we are supporting World Water Day.
What is World Water Day?
World Water Day takes place every year and is a United Nations observance day which highlights the importance of water. It has been held on the 22nd of March annually since 1993. The day raises awareness of the importance of freshwater and of the 2.2 billion people who do not have access to safe water in the world.
Over the past year, we have come to realise in the UK the real importance of water for our health. Not only does having access to drinking water help to keep our minds and body's healthy but it has also been a vital part of the fight against COVID-19. Sufficient hand hygiene is essential for reducing the spread of infectious diseases including the novel coronavirus.
Water facts
1 in 3 people in the world do not live with safe drinking water.
97% of the world's water is salty, making it undrinkable.
Water regulates the temperature of the Earth.
Water can signify creation, community, and oneself in cultural, religious, and spiritual contexts.
Water is under threat from the growing population, increasing agricultural demands and the impact of climate change.
By 2050, up to 5.7 billion people could live in an area where water is scarce for at least one month each year.
Valuing Water
The theme for World Water Day 2021 is Valuing Water. The conversation is about what water means to you. Asking questions such as what does water mean to:
you
your family
your neighbourhood
your wellbeing
your environment
your culture?
This year you can join in the conversation by using #WorldWaterDay and #Water2me. And you really could become part of the campaign. That's because a collection of comments using #Water2me will be compiled into a document detailing what water means to people all around the world.
By doing this, the campaign aims to create a complete understanding of what water means to different people and the idea is to allow people to contribute their thoughts and stories to gain this understanding. Ultimately, it will provide a valuable resource about the way different cultures and people from different backgrounds view water.
Get involved
Share your thoughts, stories, and experiences regarding the value of water to you using #Water2me on social media today.